12.06

North Hampton NH Seacoast Chapter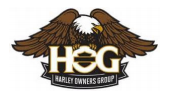 The Seacoast Chapter of Harley Owners Group was established in 1985 with 8 founding members. Over the years we have grown into a family of over 500 members. Most of the membership hails from the seacoast region of Southern NH, Southern Maine and Northeastern Mass. We are a very diverse group of people in various jobs and stages of life. Our main goal is to have "RIDE & HAVE FUN". We are a very active chapter in and around the community.
We are very fortunate that our chapter has the continuing support and generosity of Seacoast Harley-Davidson.  The dealership goes above and beyond for us in many ways.  If you think you might be interested in becoming a member we would love to have you. You can check us out at our business meetings as mentioned below or click on "how to join"
Monthly Business Meetings are held @ Seacoast Harley Davidson, Route 1, North Hampton, NH
Meetings are the 1st Thursday of the Month and starts promptly @ 7:00pm
For additional information contact any chapter Officer.
Our sponsoring dealership (Seacoast and Rochester) and sister dealerships:
Harley-Davidson Shop of Rochester