07.13

2016 L.O.H. Awards and Winners
L.O.H. Pink Razor Award
The Pink Razor award is an annual award given to a male Chapter Member who has gone above and beyond to assist L.O.H. throughout the past year. L.O.H. nominates and votes during the monthly meetings to select the recipient. The winner of the 2016 Pink Razor Award is Mark Melvin! First, as Safety Officer, he always had our back, and all other Chapter Member's back, and everyone's back for that matter. His presentations, demonstrations, and knowledge he shared at the Chapter Meetings were innovative and informative. I learned something new each month from those as well as the information in his newsletter. We also selected Mark because of the assistance he provided us in planning the 2016 International Female Ride Day. When I wrote to Mark with this grandiose plan to ride in early May to East Nowhere Maine and beyond, Mark instantly re-assured me we'd have Road Captains available and willing to help. And sure enough, he did, with himself included! He was able to contribute smart, helpful suggestions for the route and was happy to work with me on this brand new ride for the chapter. Additionally, Mark came to our minds for his consistent help with the L.O.H. Ice Cream rides. For the first L.O.H. Ice Cream ride, Mark yet again, reassured me we'd have a route and Road Captains, no questions asked, just pick a destination. This continued for a number of ice cream rides: I asked, and Mark delivered every time. I never had to worry, second guess, be anxious: he was a man of his word. The most admirable quality, that L.O.H. unanimously agreed upon, was that not only did Mark go above and beyond for us, but he was our silent, humble champion. What we saw as going the extra mile, Mark saw as par for the course. And for that, the 2016 Ladies of Harley are proud to present Mark Melvin with the Pink Razor Award! 
2016 L.O.H. Pink Razor Award Recipient: Mark Melvin
(Mark is pictured with L.O.H. Officer Allison Alper)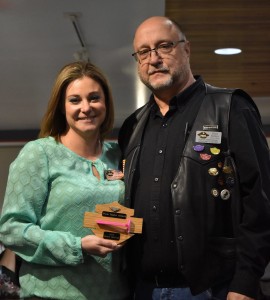 The L.O.H. Pink Razor Award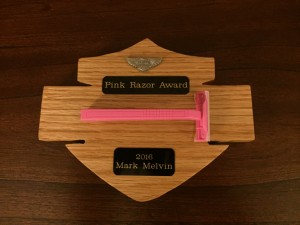 Annual Contests
Every year, the Ladies of Harley of the North Hampton NH Seacoast H.O.G. Chapter #2805 present the opportunity for all Chapter Members to enter a themed contest or two. We brainstorm different challenges for members to compete in from April 1st through November first of that year. The contest encourages Chapter Members to ride more and have fun! Winners receive a patch and pride to commemorate their efforts.
In 2016, we announced the High Mileage Challenge and the Pony Express Challenge. You can read the details and rules here: 2016 Contests.
High Mileage Challenge Winners – Men
1st Place – Bill McDonald with 34,003 miles
(Bill is pictured with L.O.H. Officer Allison Alper)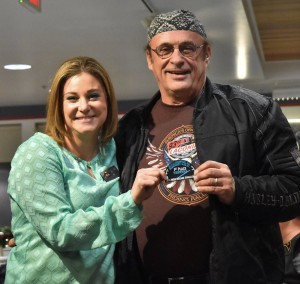 2nd Place – Dwayne Scruton with 15,482 miles
(Dwayne is pictured with L.O.H. Officer Allison Alper)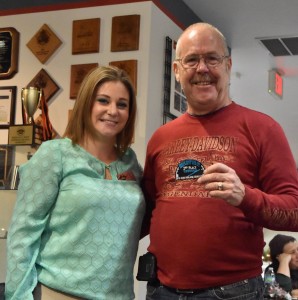 3rd Place – Kevin Barry with 14,097 miles
(Kevin is pictured with L.O.H. Officer Allison Alper)
All High Mileage Men Winners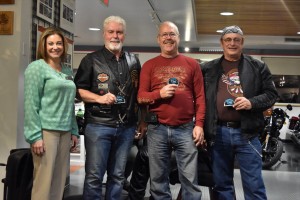 High Mileage Challenge Winners – Women
1st Place – Maria Petit with 14,921 miles
Maria is pictured with L.O.H. Officer Allison Alper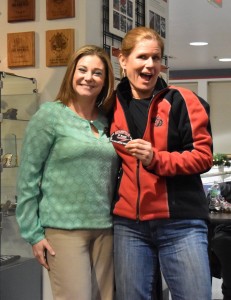 2nd Place – Linda Bailie with 12,113 miles
Linda is pictured with L.O.H. Officer Allison Alper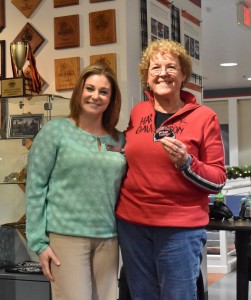 3rd Place – Sue Bailie with 8,239 miles
(No Photo Available)
All High Mileage Women Winners (Sue Bailie is not pictured)
Pony Express Challenge
1st Place – Bruce and Judy Poulin, having visited 309 Post Offices
The Poulin's are pictured with L.O.H. Officer Allison Alper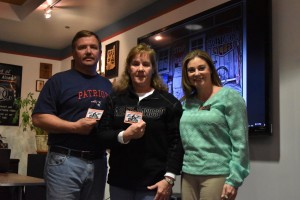 1st Place – Bill and Susan McDonald, having visited 152 Post Offices
All Pony Express Challenge Winners